Are you single?
Are you over 50? (or over 45 for Aboriginal and Torres Strait Islander peoples)
Are you seeking independent living with the convenience of share house accommodation?
Do you have an income that allows you to pay weekly rent?
Do you want the freedom of urban living with the security of a safe community?

Read on!

Our friends at Link Wentworth - one of Australia's largest Community Housing Providers - have two new exciting and unique listings with multiple vacancies.

Both of these beautifully renovated historic homes are respectively located in Mosman and Beecroft, close to amenities and transport options. Both properties boast "an independent urban lifestyle for women over 50 years (or 45, for Aboriginal and Torres Strait Islander peoples) in a private and safe community".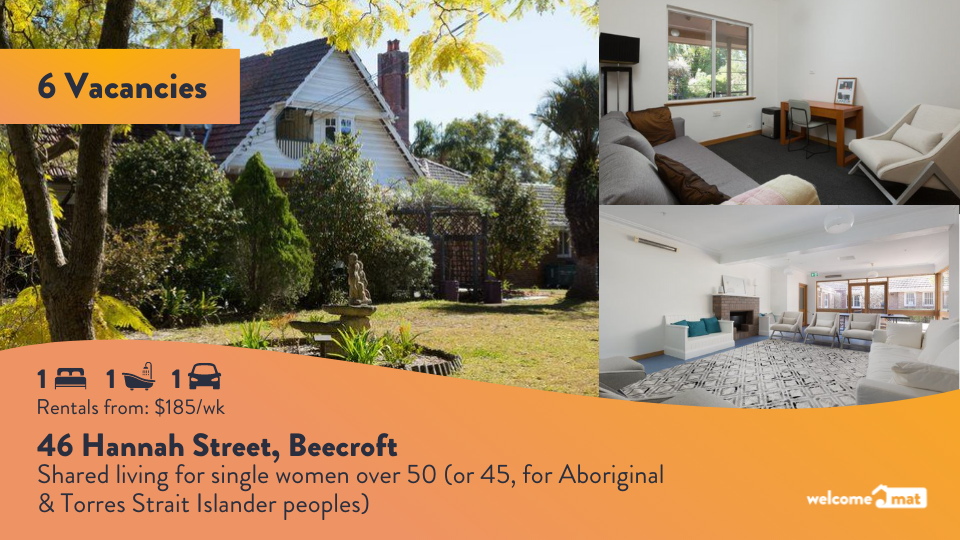 6 Vacancies!
46 Hannah Street Beecroft NSW 2119
From $185 per week (+ Bond & $20 per week for utilities)
Beecroft House is a gorgeous historic home that has been thoughtfully renovated to suit those looking for a modern-yet-homely accommodation option. Just moments away from Beecroft railway station and Beecroft Village Plaza shopping centre, this home is perfect for someone looking for country tranquility mixed with urban convenience.
Walking up to Beecroft House, the first thing you will experience is the charming landscaped front garden surrounding the driveway. Entering the building, you'll notice modern fixtures and lovely minimalist interior decoration.
Individual rooms are comfortably sized, with their own living area and bathroom (shared with one other tenant). The house has 3 large air conditioned communal areas with sofas, reading areas and a table tennis table. The communal kitchen is large and has individual cooking hubs with new appliances and separate preparation benches and fridges.
*Pet wing, if desired.
*Inspection by appointment.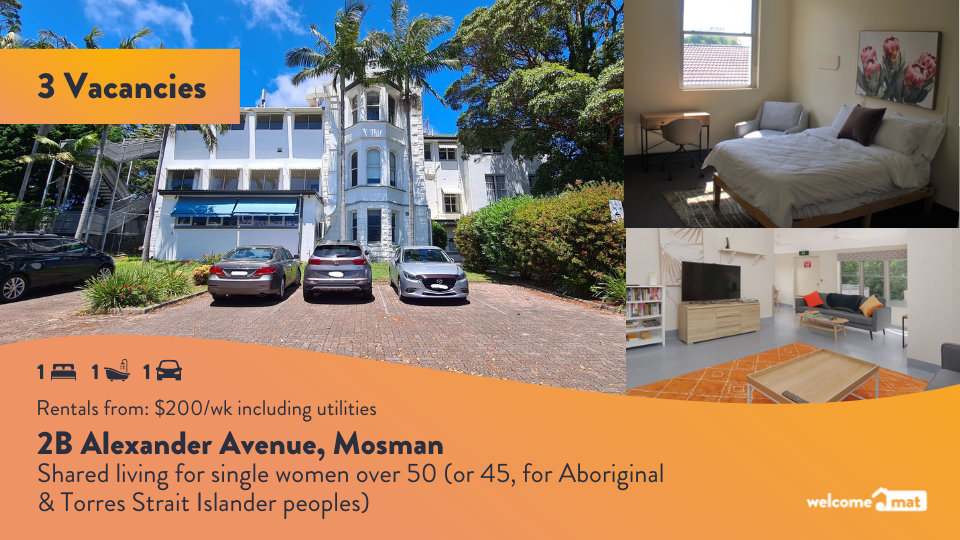 3 Vacancies! (UPDATE - NOW FULLY LEASED)
2B Alexander Avenue Mosman NSW 2088
From $200 per week including utilities
Mosman House is a large historic property with a beautiful white brick exterior. The building is situated close to Mosman, with convenient shopping, cafes and restaurants close by. Just a short walk down the road you will have access to buses that run into the city.
Upon entering, you'll notice the beautifully renovated interior with freshly painted walls and consistent modern decorations. The home boasts a modern-yet-comfortable feel to residents.
All individual rooms are neat and comfortably sized, with wardrobes, desks and private bathrooms.
The house also has communal kitchens with individual cooking hubs and separate preparation benches and fridges; as well as indoor and outdoor dining areas, reading rooms, and an onsite support worker who is available 4 days a week.
*Kindly note no pets.
*Inspections by appointment.
---
These unique vacancies won't last long at these prices! Get in touch with the contacts below today to discuss your circumstances, eligibility and interest in the properties.
Interested?
Please direct all inspection requests, enquiries and applications to Link Wentworth, by sending an email to affordable@linkwentworth.org.au
Not what you're looking for?
Please check out WelcomeMat's other listings of affordable rental housing, by searching here.